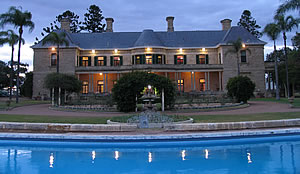 Events at Jimbour House
Every year Dalby Regional Arts Council is privileged to host a number of performances at heritage listed Jimbour. This year two events will take place inside the homestead with the rare opportunity to enter the home of the Russell family.  The history and ambience of the Drawing Room provides a unique and special setting for the intimate concerts.     
The gardens are open to the public for a small fee, with a recent addition being the interpretive 'Living History Walk'. For more information on Jimbour go to www.jimbour.com.
ON WINGS OF LOVE, THEY DANCED
The Dulcie Mason Vintage Ballgown Collection, Saturday 12 February 2022, 9am - 1pm, Dalby Uniting Church Hall
An exhibition of hand-sewn ballgowns owned by the late Dulcie Mason from Acland and made by her friend, professional dressmaker, Thelma Beutel, will be displayed to raise funds for Dalby Uniting Church.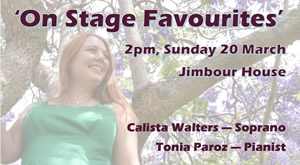 ON STAGE FAVOURITES featuring soprano, Calista Walters
Sunday, 20 March 2022 at 2pm, Jimbour House - Drawing Room
Highly regarded, Toowoomba soprano, Calista Walters will present a delightful selection of songs from well-known musicals, including: Les Miserables, Phantom of the Opera and Carousel, just to name a few. If you love musical theatre, you must come along!